Conference Management Services

Conference Management Services
Let Us Help You Make Your Next Event More Successful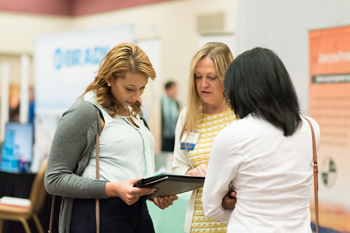 Whether your event is a conference, workshop, meeting, or symposium with a local or international audience, whether it is held on campus or at a remote location, we are your perfect partner to get the job done.
Let us assist you with planning marketing, logistics, financial management, and overall program execution. As a member of the North Carolina State University family, we are uniquely positioned to provide access to the vast intellectual and technical resources of this university, as well as those of other educational institutions, professional groups, and consulting firms.
Clients from business, industry, government, and professional associations have benefited from our ability to provide quality lifelong learning opportunities and develop powerful solutions. Our events management expertise extends from in-house training and short courses to seminars, workshops, and conferences on a wide variety of topics.


Did You Know?
OPD's services are a la carte; you only pay for what we do. It's less expensive for you to hire OPD as needed than hire a full-time employee.
Hiring OPD enables you to offer more courses. While you're focusing on content, we're taking care of the details.
OPD can manage your event regardless of its location.
OPD has helped clients to generate millions in revenue over the years.
OPD's clients and partners benefit from our annual print bids, which in turn, keep your costs down. We can produce and mail conference brochures and postcards for some of the lowest prices available.
Here's How OPD's Expertise Can Help Your Event
Expert Planning that Saves You Time
Conduct environmental scanning, needs assessment and market analysis services
Assist in site selection
Develop a program management plan and critical event timeline
Negotiate and contract with banquet and meeting facilities, technology support, event logistics and caterers allowing you to concentrate on program outcomes
Accept abstracts and proposals for conference presentations that can be reviewed and scored by a committee
Administer the credits your participants need, including Continuing Education Units (CEUs), Professional Development Hours (PDHs), AIA Learning Units (LUs) and other credits
Customize program evaluations that provide you with invaluable statistical and qualitative results
Integrated Marketing Services that Cost Less and Get Results
Maximize the impact of every promotional dollar through digital, social and/or traditional marketing services
On average, OPD can produce and mail a brochure for $.45 each and a postcard for $.35 each
Registration Management of the Utmost Accuracy
Design an online registration program that matches your program's needs
Order and assemble participant materials
Confirm registration by email
Financial Management that Keeps You in Control, Yet Manages Your Money with Greatest Accountability
Develop your conference budget
Recommend strategies for pricing your registration fees
Collect registration fees with the highest level of online security
Monitor income and expenses with the strongest level of accounting accuracy
Pay invoices against revenue and provide you with one final statement and any residual revenue
Provide periodic income and expense reports
Complete Program Staffing that Lets You Focus on the Big Picture
Identify cost-effective speakers and other talent within the North Carolina State University community and beyond
Handle on-site registration and act as the liaison for room set-up and catering, so you can enjoy your program