Design Thinking Certificate
Design Thinking Certificate
Accelerate Your Career Using the Strategies of Design
Through practical knowledge and hands-on experience, you will learn the concepts, tools and methods of human-centered design thinking and apply these skills to solving problems and developing strategies that foster career growth and creative confidence.
From the introduction of the design thinking workflow — research and problem framing, ideation, concept development, prototyping, refinement, and implementation — to the experience of creating a solution via an interactive design project, our goal is to spend 8 weeks providing you with a well-rounded education to think and work like a designer.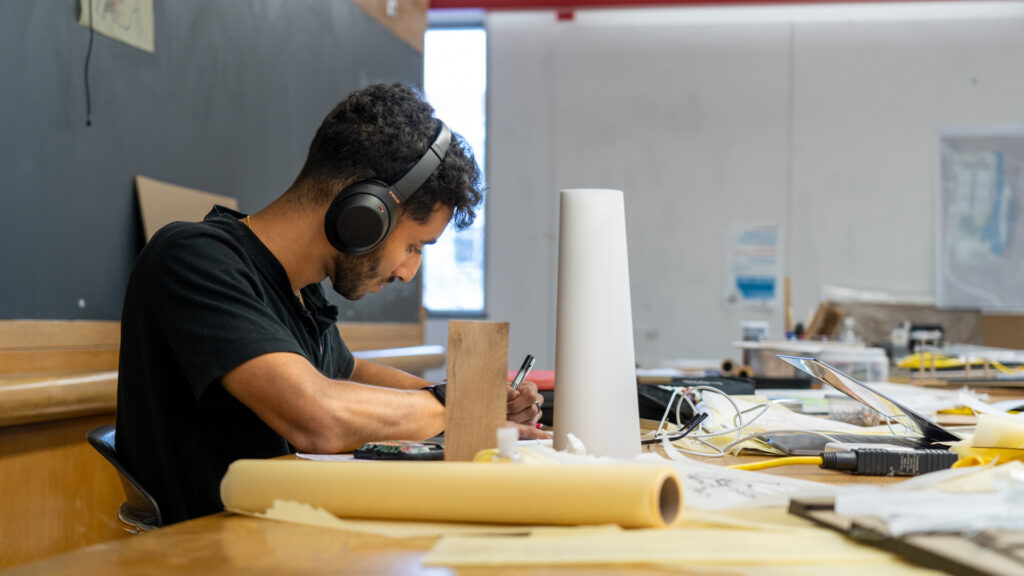 10% savings for NC State Alumni — use code ALUMNI when registering
Benefits for Every Background
Gain a New Perspective — Don't have a design background? This program was created with you in mind.
Identify problems and develop solutions from a human-centered perspective
Learn design methodologies that strengthen teams and promote effective strategies
Enhance your resume with certification that highlights your abilities to adapt and create in an ever-changing world
Refresh Your Skills — Have a design background and are looking to keep your skills updated? This program will inject new energy into your work.
Learn human-centered design methods to strengthen creative confidence
Boost your portfolio with a hands-on design project that will showcase your current interests in design
Energize your skills with design principles and processes to continue developing your portfolio after you complete the program
A Uniquely Driven Certificate
Unlike traditional distance and online learning programs, Design Thinking is a Synchronous and Collaborative Remote Experiential Learning certificate for greater one-on-one opportunities. NC State's Design Thinking Certificate program enables real-time interactions between students, faculty, and industry professionals. In addition, our intimate maximum class size of 18 students will enable in-depth discussions and exchange of ideas to maximize your learning experience and results.
What You Will Learn
Design thinking methodologies from a human-centered perspective
Industrial design workflow and research methodologies
Competitive and comparative analyses of existing products and solutions
How to conduct user interviews
Mind mapping and stakeholder mapping
Mood boards and where to find aesthetic inspiration
Framing a problem and writing a problem statement
Tips for creating low-fidelity and high-fidelity prototypes
User testing methodologies
First steps in preparing a product design portfolio
How to tell a visual narrative through a design project
Program Details
Duration: 8 Weeks
Dates: March 19th – May 9th, 2024
Hours: Every Tuesday and Thursday from 6pm to 8pm
Tuition: $2,100
Requirements
Access to basic prototyping tools and materials (foam core, cardboard, modeling clay, x-acto knife, wooden dowels, or whatever materials are deemed necessary to build a functioning prototype of your idea)
High-speed internet connection
Built-in or external webcam and speakers
Design-grade laptop or desktop computer that is capable of running the latest browser and streaming media

CPU or Model: Intel Core i7 or newer processor
System RAM: 16 GB minimum, more preferred
Hard Drive (Storage): 512 GB SSD minimum, more preferred (multiple drives are fine)
Monitor/Display: 18" or larger – 1920×1080 minimum screen resolution
Operating System: Windows 10 or later. Windows 11 ok.
10% savings for NC State Alumni — use code ALUMNI when registering
Meet Your Instructor
Kathryn Wozniak
Assistant Teaching Professor, Industrial Design
NC State University
Kathryn is an experienced industrial designer with a wide range of practical skills in product design and development, illustration, design strategy, and teaching. She is currently an Assistant Teaching Professor of Industrial Design at NC State University. Her product portfolio includes a variety of successful parenting products, home appliances, medical devices, and other consumer goods. She spent 10 years working for companies that lead the industry in their respective categories — TTI (power tools and electronics), Boon Inc. (parenting), BlackHägen Design (medical devices working for Philips Respironics, Medtronic, and GE Healthcare).
At NC State, Kathryn teaches courses in digital techniques, social innovation, sustainable design, and various hands-on design studios.
Her research and most recent teaching projects focus on techniques for co-designing with the disabled community. She works with partners in the Research Triangle Park area to increase awareness about inclusion of the end user in design for disabilities. She is passionate about using interdisciplinary collaboration to solve problems in a human-centered way.
Meet Your Guest Speakers
Shea Tillman
Professor, School of Industrial and Graphic Design
Auburn University
With a professional background in user research and product development, Shea teaches Advanced Product Design and Foundations studios, as well as Industrial Design History at Auburn University. Previously, Shea led Studio+Health, a futures course focused on better orienting product design students for medical device development. In addition, he taught human-centered design within the Mechanical Engineering program at Auburn University and in the Biomedical Engineering program at the University of Alabama Birmingham (UAB).
Prior professional experience includes work in the consumer products sector with Techtronic Industries (Ryobi, Ridgid, Craftsman tools), and Cooper Lighting (commercial lighting systems), as well as a user experience researcher with SonicRim in Columbus, Ohio. Shea has also led design and innovation collaborations with companies such as Emerson Tool, Eastman, Werner, Leica Geosystems, and Microsoft. Research interests include the integration of user research in the product development process, as well as the generation and management of visual brand language (VBL).