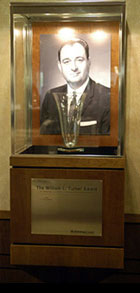 The William L. Turner Award for Outstanding Contributions to Extension and Continuing Education recognizes and memorializes the distinguished leadership of William Turner and his dedication to the land grant mission of NC State University. Dr. Turner, former professor of economics and vice chancellor for extension and public service, had an illustrious professional career spanning from August 1948 through December 1989. As a result of his efforts locally as well as nationally, the role and value of continuing higher education was elevated, leading to the creation and adoption of the Continuing Education Unit (CEU) as a universal quality standard.
This annual recognition is awarded to an individual whose significant contributions and accomplishments have enhanced and reinforced extension and continuing education as being an integral component of engagement at NC State in responding to the educational needs of the various stakeholders served or in the application of research to real-life issues and problems.
One award will be presented annually at the spring NC State Outreach and Engagement Awards Celebration and Reception.


Qualifying Characteristics
Nominees will have been active partners with one or more McKimmon Center for Extension and Continuing Education units in the successful development and delivery of course or services that effectively and efficiently meet the needs of a diverse constituent base. Faculty and staff (active or retired), community leaders, as well as public and private sector professionals are eligible for nomination. Among the qualifying characteristics considered in the nomination process are:
Exemplifies the spirit of service thereby enhancing NC State's commitment to public engagement
Provides distinguished leadership in the creative and innovative development, implementation and evaluation of lifelong learning course.
Improves the quality of life for North Carolina's citizens through the application of NC State University's knowledge and technical resources.
Contributes to the "scholarship of engagement" through juried publications and invited presentations.
Utilizes state-of-the-art techniques and customer-sensitive approaches that maximized awareness of and access to outreach/extension initiatives.
Influences the establishment or refinement of public policy that addressed issues of significance to McKimmon Center for Extension and Continuing Education's constituents and the University's stakeholders in general.
Extends the University to previously underserved citizens.
Makes substantial, enduring contributions to community development and to the well-being of society.
MCE&CE personnel are not eligible.
Award Recipients
2019 – Dr. Chuck Korte


Pictured left to right: Provost Warwick Arden, Dr. Chuck Korte, Chip Futrell
2017 – Toby P. Brody



Pictured left to right: Provost Warwick Arden, Toby Brody, Chip Futrell
2015 – Thomas K. Miller III


Pictured left to right: Alice Warren, Chip Futrell, Dr. Thomas Miller, Provost Warwick Arden, Dr. Terri Helmlinger Ratcliff
2013 – John Cudd


Pictured: Alice Warren (left) and John Cudd (right)

2011 – Tim G. Hatcher


Pictured left to right: Tim G. Hatcher, Marjorie Turner, Dr. James Zuiches
2009 – Denis Jackson


Pictured left to right: Alice Warren, Denis Jackson, Marjorie Turner, Dr. James Zuiches
2007 – Elgiva D. Watson


Pictured left to right: Dr. Denis Jackson, Elgiva Watson, Marjorie Turner, Dr. Jim Zuiches
2005 – James W. Clark


Pictured: James W. Clark

2018 – Bernard Osher


Pictured left to right: Alice Warren, Chip Futrell, Tricia Inlow-Hatcher (accepting on behalf of Bernard Osher), Dr. Duane Larick
2016 – David J. Milidonis


Pictured: Chip Futrell (left) and Dave Milidonis (right)

2014 – Mike A. Davis


Pictured left to right: Alice Warren, Mike Davis, Ann Turner Lichtner

2012 – Frederick E. Turnage (posthumous)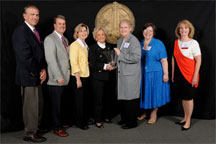 Pictured left to right: Jud Hair, John Turnage, Trevor Turnage Lane, Norma Turnage, Kathy Lawson, Cindy Peck, Ann Turner Lichtner
2010 – Guido van der Hoeven


Pictured left to right: Jud Hair, Guido van der Hoeven, Marjorie Turner, Dr. James Zuiches, Alice Warren
2008 – Sondra L. Kirsch


Pictured left to right: Alice Warren, Sondra Kirsch, Dr. James Zuiches, Marjorie Turner
2006 – Leigh H. Hammond


Pictured left to right: Dr. Jim Zuiches, Leigh Hammond, Marjorie Turner, Dr. Denis Jackson
2004 – S. Ted Pemberton


Pictured left to right: Denis S. Jackson, Marjorie Turner, S. Ted Pemberton, Chancellor Marye Anne Fox